Todays artist pulled a tupac, dead but released a double disc, now before you go around thinkin he is alive in cuba. He was found of suicide by stabbing himself in the heart twice...both being fatal. Something doesn't add up but who could blame the girlfriend her alibi stands up, she claims she was in the bathroom....I really think the cops should look into this more. just saying. The artist is a personal favourite of mine, his melodic melodies can be the happiest of songs or the most depressing all that and more makin him an inspiration for musicians. He is none other than the great
Elliott Smith
!
Nobody can say that he has had an easy ride, suffering addiction after addiction he did many rehab stints only to get clean on his birthday. His songs are filled with such pain but theirs beauty in the pain which makes him an artist that stands out on his own. There is good reason why he is a legend in some peoples mind.
The album is
New Moon
.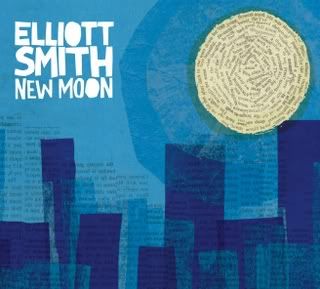 Before i talk about this album, i feel no matter what people should go out to buy it because proceeds go to a great cause Outside In, which is a program for low-income adults and homeless youth in the city of Portland, Oregon.
The album is in true Elliot style, dark at times, bright and full of life at others, its a true marvel how he can take you from one state to another. This album was recorded between 1994 and 1997 during the phase where he wrote "Elliot Smith" and "Either/Or". Both albums are highly respected in the underground scene, so the rarities surely doesn't disappoint the listener. Put it this way, it's simple songs, with simple playing but the beauty is in how full it can sound, how complete and whole the songs feel with very little added on top of it. You can probably expect another one of these comin out through Interscope, once a musician dies the labels rush out anything with his name on it, but the one thing thats different about this is that they really didn't rush it at all but took time to mix the sound so it is up to todays recording standards. Due to the success this one is having i will not be shocked to see another one in the near future. All in all this is an amazing album that can warm the heart but also make one wish he could save his soul. I recommend this to anyone as long as they can deal with mellow music.
My Review 9/10
You like this 10/10
you hate this 5/10
Now i got some feedback saying i should type a little about my day and all that jazz in each one of these to make it more personal, and so we connect as reader and blogger. I will try it out see how it goes, i will probably take pictures of my day so that it gives you something more to look at, right now i am in exams so i dont do anything that exciting so dont get your hopes up!
yesterday I went out for dinner with my "sisters" and Eihab, it was ok, it was at this place called Go Wok. Its a Chinese restaurant that is mediocre, i am never disappointed but at the same time i am never pleased, we followed that up by coming here hangin out a bit and then everyone goin their seperate ways. I had a friend come over that i hadn't seen in a while, it was nice but man i really gotta buckle down and study.
anyways hope this looks right, thanks for people checking this out and havin it grow, tell all your friends!
Rams