Todays band is one that i heard about by a sticker set i got from Kung Fu Records..i know kinda lame because i guess they were big in the underground, but i was so intrigued by their touring with weezer and their name that i looked into them and i found it was a pretty rocking band. Shortly after my discovery of them, they disbanded, which kinda just made me forget about them and move on until they reunited this past year the band is
OZMA
!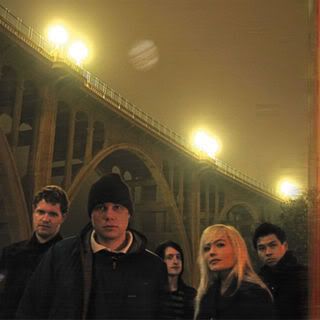 Their latest disc comes after their hiatus and accompanied with a new drummer they are in the right position for the main stream success they have been gunning for from day one. They have a college rock sound that is heavily found on the radio these days. After giving little details about the upcoming album they sparsely released details of their 4th Studio album
Pasadena
!

The album starts with a very Weezer-esque sounding song accompanied with the catchiness of a weezer track entitled No One Needs To Know. The songs range from Power-pop with a rock backdrop to very bare songs that make you check if your still listenin to the same band. The beauty of the Cd Cover and Back Cover are one thing you gotta love the use of jupiter in the background is simply stunning. the look almost conveys what to expect, a somber at time but happy go lucky band. A simple look at the track titles tells you all that you need to know about their style. With Names like "Heartache Vs. Heartbreak", "I Wonder", and "Fight The Darkness" you know its not the happy songs on the album. Trust me though the album does have many bright sides and its instrumentation sounds very much like a Weezer that even the sad songs can sound happy much like The Sweater Song. I enjoy this album, but i dont know of its staying power in my rotation so for that reason i feel this is a Single CD, one that has certain songs that are gonna be heavily listened to and others that will be neglected. I think its a CD that at first will be good but wont last as long as you would hope.
My Review 6.6/10
You like this style 8.5/10
You hate this style 0/10 you wont like this at all.
So today is Mothers Day, So Mama I love you and happy Mother's Day. Yesterday was one of those days that passed me by and i am not sure what happened all i know is i had a solid 4 hours if not more of lessons for my upcoming exams so i am Exhausted! Today i gotta buckle down and get some work done but i always gotta blog first. My mom is getting my plane ticket right now so i am kinda stoked because that means their is something to look forward to, a light at the end of the tunnel if you will.
On a serious note, a friend of mines mother got in an accident and i am asking for you to send prayers to him and his family, for personal reasons i wont disclose names but please just pray. Thanks for the support, tell your friends to pray and check the site out at the same time, i mean it wouldn't hurt to toss it in!
Sincerely Rams